All-New, All-Different Marvel
Universe:
Earth-616

Created by:

Brian Michael Bendis
David Marquez
Sara Pichelli
Jason Aaron
Chris Bachalo

Main Heroes:

Spider-Man (Peter Parker), Spider-Man (Miles Morales), Spider-Woman, Spider-Gwen, Vision, Star-Lord, Ms. Marvel, Iron Man, Wolverine, Inhumans, Hyperion, Guardians of the Galaxy, Daredevil, Doctor Strange, Old Man Logan, Commander Steve Rogers, Captain America, Thor, Black Panther, Ant-Man, S.H.I.E.L.D., Red Hawk, Citizen V, Karnack, New Avengers, Howling Commandoes, Deadpool, Cable, Avengers Unity Division, Squirrel Girl, Spider-Man 2099, Hawkeye (Clint Barton), Hawkeye (Kate Bishop), Agent Venom, Angela, Black Knight, Drax the Destroyer, X-Men, Hercules, Howard the Duck, Nova, Moon Girl, Devil Dinosaur, Silk, Ultimates, Avengers, Warriors of the Great Web, All-New X-Men, Gwenpool, Scarlet Witch, Hellcat, Squadron Supreme, Becca the Earthgirl, Hulk, Captain Marvel, Groot, Rocket Racoon, Uncanny X-Men, Bailey Hoskins, Luke Cage, Iron Fist, Black Widow, Moon Knight, Gamora, Blade, Nighthawk, Punisher, Thunderbolts, Mockingbird, Loki, Gambit

Main Villains:

Illuminati, Carnage

The All-New, All-Different Marvel is a publishing initiative event published by Marvel Comics that began in October 2015. The event features new series being introduced and relaunches of various series already in publication with new creative teams following the events of Secret Wars.
Publication History
The first glimpses of the All-New, All-Different Marvel event was in February 2015 where Marvel revealed that following the end of Secret Wars, which would begin publication in the spring of the same year, a new main continuity would be established which would be a combination of the Mainstream Marvel Universe and the Ultimate Marvel Universe.
The following month, Marvel revealed that for 2015's Free Comic Book Day they would a special one shot comic book featuring previews of 2 new series that would being publication as part of the All-New, All-Different Marvel event. These Titles were All-New, All-Different Avengers, a new incarnation of the Avengers whose line-up would feature many young rookie heroes working with veteran Avengers, and Uncanny Inhumans, a new series in the style of the X-Men comics focusing on the race know as the Inhumans whose relivance and importance in Marvel Comics had been growing steadily since 2014's Inhumanity event.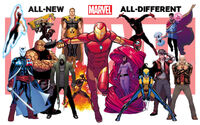 In Early June 2015, Marvel unveiled 2 promotional posters for the event showcasing how many of its iconic and lesser known characters would look Post-Secret Wars. Spider-Gwen, X-23 in a new costume closely resembling Wolverine's iconic blue and yellow X-Men costume, Old Man Logan, Agent Phil Coulson, the Vision, Spider-Woman, Doctor Strange who for unknown reasons is now wielding an axe, Black Panther, the Thing who is now sporting a Guardians of the Galaxy uniform instead of his trademark Fantastic Four shorts, Red Wolf, Ultimate Spider-Man, Mainstream Spider-Man, Ant-Man, Steve Rogers who has apparently resumed using his S.H.I.E.L.D. uniform, Ms. Marvel, Doctor Spectrum, Rocket Raccoon, Star-Lord, Daredevil, Hyperion, Inferno, a new incarnation of Citizen V, Medusa, and Sam Wilson and Jane Foster who are still using their Captain America and Thor personas respectively. The one common element in both posters was Tony Stark, in a new Iron Man armor, being featured prominently in the middle with the other heroes standing behind him. The reason for Iron Man's prominence in the posters was later explained that the company was planning to make Iron Man Marvel's new flagship hero in the new reality. This decision was primarily influenced by the massive success of the Cinematic Universe's incarnation of the character and the movies featuring the character and due to the significance of the character in the Cinematic Universe. To facilitate this shift in the comics, the first series that would be released as part of the All-New, All-Different Marvel would be a new Invincible Iron Man series written by one of Marvel's most prominent writers, Brian Michael Bendis.
Following the revelation of Iron Man's newfound prominence in Marvel Comics, Marvel began to reveal info on various new titles that would be part of the event on a bi-daily basis with the majority of Marvel's new series being revealed in late June 2015. Three more titles were announced at the San Diego Comic-Con the following month, after which Marvel began sparsely revealing even more comics.
Titles
New Series
Currently in Publication
Doctor Strange Vol. 4
Howling Commandoes of S.H.I.E.L.D.
Invincible Iron Man Vol. 2
Karnak
New Avengers Vol. 4
Uncanny Inhumans
All-New Wolverine
Black Knight Vol. 4
Drax
Extraordinary X-Men
Hercules Vol. 4
Illuminati
Moon Girl and Devil Dinosaur
Ultimates Vol. 2
Vision Vol. 3
All-New Inhumans
Guardians of Infinity
Patsy Walker, A.K.A. Hellcat!
Red Wolf Vol. 2
Scarlet Witch Vol. 2
Squadron Supreme Vol. 4
Starbrand & Nightmask
Totally Awesome Hulk
Uncanny X-Men Vol. 4
Power Man and Iron Fist Vol. 3
Hyperion
International Iron Man
Mockingbird
Upcoming
Black Panther Vol. 6
Captain America: Steve Rogers
Nighthawk Vol. 2
Vote Loki
Release Date Unknown
Relaunches
Currently in Publication
Angela: Queen of Hel (Relaunch of Angela: Asgard's Assassin)
Astonishing Ant-Man (Relaunch of Ant-Man Vol. 2)
Captain America: Sam Wilson (Relaunch of All-New Captain America)
Unbeatable Squirrel Girl Vol. 2
Uncanny Avengers Vol. 3
All-New Hawkeye Vol. 2
Deadpool Vol. 4
Howard the Duck Vol. 6
Mighty Thor Vol. 2 (Relaunch of Thor Vol. 4)
Ms. Marvel Vol. 4
Nova Vol. 6
Star-Lord (Relaunch of Legendary Star-Lord)
All-New X-Men Vol. 2
Daredevil Vol. 5
Weirdworld Vol. 2
A-Force Vol. 2
Agents of S.H.I.E.L.D. (Relaunch of S.H.I.E.L.D. Vol. 3)
Captain Marvel Vol. 9
Old Man Logan Vol. 2
Rocket Raccoon and Groot (Relaunch of Rocket Raccoon Vol. 2)
Silver Surfer Vol. 8
Spider-Man Vol. 2 (Relaunch of Miles Morales: Ultimate Spider-Man)
Black Widow Vol. 6
X-Men '92 Vol. 2
Upcoming
Moon Knight Vol. 8
Thunderbolts Vol. 3
Punisher Vol. 10
Mini-Series
Currently in Publication
Deadpool & Cable: Split Second Infinite Comic
Deadpool & Cable: Split Second
X-Men: Worst X-Man Ever
Deadpool & the Mercs for Money
Daredevil/Punisher: Seventh Circle Infinite Comic
Upcoming
Daredevil/Punisher
Deadpool vs. Gambit
One Shots
Avengers Vol. 6 #1
A Year of Marvels: March Infinite Comic
Deadpool: Masacre
Community content is available under
CC-BY-SA
unless otherwise noted.