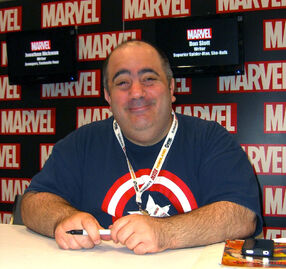 Dan Slott is an American comic book writer best known for his work on The Amazing Spider-Man for Marvel Comics, which he currently writes twice a month. Some of his other notable works include Arkham Asylum: Living Hell and She-Hulk.
Career
Early in his career, Slott wrote for DC Comics, including Arkham Asylum, which helped give him success. His success led to his launching of the She-Hulk series in 2004. After this, he started writing consistently for Marvel. He took over writing duties on Mighty Avengers after the departure of the previous writer, starting with issue #21 and finishing with issue #36. He also wrote the story for the 2010 video game Spider-Man: Shattered Dimensions.
Slott took over The Amazing Spider-Man in November 2010 as the sole writer, beginning with his "Big Time" storyline. The book is currently on a bi-monthly schedule.
As part of the Marvel NOW! event, Dan became the writer for the Superior Spider-Man, which has replaced The Amazing Spider-Man.
See Also
Community content is available under
CC-BY-SA
unless otherwise noted.