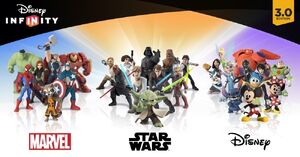 Disney Infinity: 3.0 Edition Disney Infinity 3.0 Edition logo Developer(s) Avalanche Software Additional Work: Ninja Theory (Twilight of the Republic Play Set)[1] Studio Gobo (Rise Against the Empire Play Set)[2] United Front Games (Marvel Battlegrounds)[3] Sumo Digital (Toy Box Speedway) Distributor(s) Disney Interactive Studios, LucasArts Platform(s) Xbox 360, Xbox One, PS3, PS4, Wii U, iOS, Android, PC, Apple TV Release date(s) PS3, Xbox 360, PS4, Xbox One, Wii U Germany: August 27, 2015 Africa/ EU: August 28, 2015 NA: August 30, 2015[4] Apple TV, PC, iOS, Android: 2015 Genre(s) Action-adventure Rating(s) E10+
INFO
Disney Infinity: 3.0 Edition, also known as Disney Infinity 3.0, Disney INFINITY: 3.0 Edition, and Disney INFINITY 3.0, is an action-adventure sandbox video game developed by Avalanche Software and published by Disney Interactive Studios.[1] It is the sequel to Disney Infinity and Disney Infinity: 2.0 Edition, and was announced on May 5, 2015. The game was released in August 30, 2015[5] in North America, and on August 28, 2015 in Europe and other parts of the world. The game is available on Xbox 360, Xbox One, PS3, PS4, Wii U, iOS, Apple TV, Android, and PC. It features characters from Disney, Pixar, Marvel, and Star Wars properties. The slogan is "Great Characters. Great Adventures. Join Forces."
Section heading
Write the second section of your page here.
Community content is available under
CC-BY-SA
unless otherwise noted.