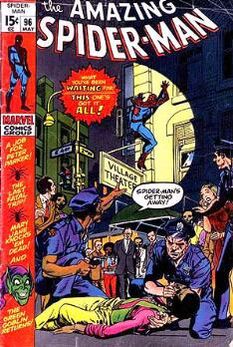 "Green Goblin Reborn!"
is a
Marvel Comics
story arc, published in 1971, which features
Spider-Man
fighting against his arch enemy Norman Osborn, the Green Goblin.
This arc was published in The Amazing Spider-Man #96 - 98 (May 1971 – July 1971).
Plot
At the beginning of issue 96, a cash-strapped Peter becomes the room mate of Norman Osborn's son Harry Osborn. After changing into his Spider-Man costume, Peter saves a man dancing on a rooftop, realizes he is high on drugs, and finally says "I would rather face a hundred super-villains than throw my life away on hard drugs, because it is a battle you cannot win!"
In issue 97, Norman Osborn regains his memory, turns into the Green Goblin and attacks Spider-Man, then disappears mysteriously. At home Peter is shocked to find Harry popping pills, partly because his love interest Mary Jane Watson turned him down.
In issue 98, the saga ended by the Green Goblin locate and fight Spider-Man, and Peter defeats his enemy by showing him his sick son. Norman faints, and in the end Peter and his girlfriend, Gwen Stacy, rekindle their relationship.
Community content is available under
CC-BY-SA
unless otherwise noted.