Jack Kirby
Born:
Jacob Kurtzberg
August 18th, 1917
New York City, New York
Died:
February 6th, 1994 (aged 76)
Thousand Oaks, California
Cause of death:
Heart failure
Occupation(s):
Cartoonist
Years active:
1936-1993
Spouse:
Roz Goldstein
Children:
Lisa Kirby
Jacob Kurtzberg (August 28, 1917 – February 6, 1994), better known by his pen name "Jack Kirby", was an American comic book artist, writer and editor regarded by historians and fans as one of the major innovators and most influential creators in the comic book medium. Ironically, of all the Marvel characters he designed and help conceive with Stan Lee, the company's flagship character Spider-Man was not one of them.
He has many notable creations including Captain America, Fantastic Four, Hulk, Thor, X-Men, Fourth World and Kamandi. Kirby drew the iconic Amazing Fantasy #15 cover after Stan Lee was dissatisfied with Steve Ditko's version.
Spider-Man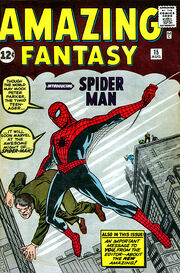 Original treatment and covers
Kirby did several of the early covers to help ensure commercial success. These included Amazing Fantasy #15, Amazing Spider-Man #1, #10, Strange Tales Annual # 1 and Tales To Astonish #57.
Spider-Man creation dispute
At one point Kirby started to claim he created Spider-man. Referring back to when Lee had gone to him with the idea of doing a spider-themed character, but Kirby's treatment was very different. Some historians have pointed out that this may have established that the character lived with an elderly couple, but this would be the extent of the influence over the final creation. Kirby's original Spider-man art has never publicly surfaced. In 1990 Ditko published a visual diagram to defend his design credit of Spider-Man in the History of the Comics book.
Beyond Spider-Man
Later years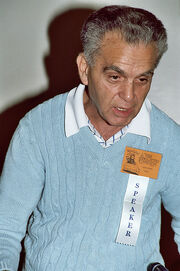 Gallery
References
External links
Community content is available under
CC-BY-SA
unless otherwise noted.