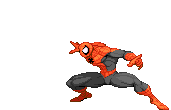 This has got to be the worst alternate universe ever.

-Spider-Man
Hey! Article is a stub. This means that it is short and needs more information, or should be expanded with up to date information, if there is any new information. You can help the Spider-Man Wiki by expanding it. Thanks!
Remember users, remove this template ONLY if the article has been expanded enough.
Wolverine

Full Name:
James Howlett
First Appearance:
Incredible Hulk Vol. 1 #180
Created by:
Len Wein
John Romita, Sr.
Herb Trimpe
Home Universe:
Earth-616
Alignment:
Good
Status:
Revived
Place of Birth:
Alberta, Canada
Citizenship:
Canadian
Base:
Mobile; formerly Jean Grey School for Higher Learning, Salem Center, Westchester County, New York; Avengers Mansion, Manhattan, New York City; Cavern-X, Sedona, Arizona; Utopia, San Francisco Bay, California; Avengers Tower, Graymalkin Industries, San Francisco, Xavier Institute, Bermuda Triangle; Cooterman's Creek, Australia; Alcatraz Island
Affiliations:
None, formerly X-Men (Jean Grey School member, leader), Avengers Unity Division, Offer's Squad, Avengers, Murder Circus (brainwashed), X-Force, New Avengers, X.S.E., Horsemen of Apocalypse, New Fantastic Four, Secret Defenders, Clan Yashida, Department H, Flight/Alpha Flight, Department K, Knights of Wundagore, CIA Team X/Team 7, Weapon Plus (Weapon X), Canadian Army (Devil's Brigade, 1st Canadian Parachute Battalion), Logan's Mutant Team, Mighty, Hudson Bay Company, Landau, Luckman & Lake, Alpha Flight, The Hand
Powers/Abilities:
Master Tactician, Master Martial Artist, Expert Marksman, Expert Swordsman, Skilled Acrobat, Advanced Covert Ops Expert, Skilled Mechanic, Multi-lingual
Height:
5' 3" (1.60 m)
Weight:
195 lbs (88 kg) (Without Admantium Skeleton)
300 lbs (136 kg) (With Admantium Skeleton)
Hair Color:
Black
Eye Color:
Blue
Unique Features:
Animal-like canine teeth; two sets of three, foot-long retractable bone claws stored in his forearm, mutton chop sideburns, unique hairstyle, hirsute physique, and scar on the right of his face which extends from the cheek to the forehead and passes through the eye.
"...I'm Wolverine. I'm the best there is at what I do, but what I do best isn't very nice."
— Logan

James Howlett (of Earth-616), also known as Wolverine, is a hero and ally of Spider-Man.
History
After escaping Weapon X and later joining Alpha Flight, the man known as "Logan" was approached with a chance to change the world, by Professor Charles Xavier. After joining Professor X's X-Men, Wolverine has been using his mutant power, to heal at an accelerated rate, peak physical condition, and razor sharp metal Adamantium claws, to fight for the peaceful coexistence of mutants and humans most of his life.
Spider-Man Versus Wolverine
Astonishing Spider-Man and Wolverine
During a robbery, Spider-Man and Wolverine were both sent back in time by magical diamonds, to the time of the dinosaurs. Wolverine made friends with a tribe of early human creatures. His involvement with them allowed them to survive the K-T Extinction Event. 
When the meteor came, Spider-Man and Logan were thrown into the future, where the extinction of humanity allowed the tribe Wolverine befriended in the past to dominate the world. The world is menaced by a character called "Doom the Living Planet". Despite Spider-Man's pleas not to, Wolverine uses the Phoenix Gun to destroy Doom.
The Phoenix Gun is a weaponize piece of the Phoenix Force, capable of destroying any living being at the price of the life of the one who fired it. After firing it, Wolverine seemingly dies. However, Spider-Man soon resurrects him with a Cosmic Cube, much to Logan's dismay, since he saw his mother in the afterlife.
Both the heroes are are then sent through time again by Czar and Big Murder.
Logan ends up in a wrestling ring, wrestling a younger Peter Parker and Spider-Man is in a frozen wilderness as a feral Logan is hunted by Dog. They are then transported to Mojoworld; Mojo had been using Czar and Big Murder to arrange the entire list of shenanigans.
Wolverine becomes overcome with uncontrollable anger. However, due to firing the Phoenix Gun, Logan became the new Dark Phoenix. After Spider-Man manages to calm him down, the Phoenix Force leaves him.
Finally, they are sent back to the American Midwest in the time of the cowboys. Peter falls in love with a woman named Sara Bailey, who had also been transported through time by the diamonds, while Logan becomes chief of a Native American tribe. The Time Variance Authority soon finds them and sets the duo back into their proper point in time.
Powers and Abilities
Powers
Superhumanly Acute Senses: Wolverine possessed super humanly acute senses that were comparable to those of certain animals. He could see at far greater distances, with perfect clarity, than an ordinary human. He retained this same level of clarity even in near total darkness and complete darkness. His hearing was enhanced in a similar manner, allowing him to detect sounds ordinary humans couldn't hear at a greater distance, enough to hear a teardrop in another room that has thick walls with enough focus. He was able to recognize people and objects by scent, even if they are well hidden. He could track a target by scent, even if the scent has been greatly eroded by time and weather factors, with an extraordinary degree of success. Wolverine could also use his keen sense of smell to detect lies due to chemical changes within a person's scent. These senses stemmed from, at least partially, his constant cellular regeneration, as were his enhanced physical capabilities. His senses surpass even the most smartest animals on the planet, they surpass Spider-Man's Spider-Sense, even Daredevil has admitted Wolverine's senses surpass his own. He can also see and smell light waves.
Enhanced Strength: His natural strength was augmented by the demand placed on his musculature due to the presence of over 50kg/100 pounds of adamantium bonded to his skeleton, which also removes the natural limitations of the human skeletal structure by allowing him to lift weights that would damage a human skeleton. Wolverine's strength was enough to allow him to press/lift just about 5 tons.
Superhuman Speed: Wolverine was able to move at low level superhuman speeds. He has attacked faster than the eye could follow and even Spider-Man briefly thought Wolverine was faster than he was in their first fight. His combat speed seems to have been more enhanced than anything else, as he has frequently kept up with Spider-Man in combat, and blitzed people before they pull their trigger fingers. He has so been able to tag Speed Demon, who can run at vast superhuman speeds.
Insulated Weather Adaptation: Wolverine's body was highly resistant to certain elemental extremes, particularly cold, to the extent that he could sleep nude in subarctic conditions with no apparent injury.
Animal Empathy: Wolverine had the ability to sense the emotional state of animals on a basic level such as fear, anger, happiness or pain. He could even communicate with them to make the animal aware of his actions and or his intent.
Bone Claws: Wolverine's skeleton included six retractable 12-inch long bone claws, three in each arm, that were housed beneath the skin and muscle of his forearms. Wolverine could, at will, release these slightly curved claws through his skin between the knuckles on each hand. The skin between the knuckles tore and bled, but the blood loss was quickly halted by his healing factor. Wolverine could unsheathe any number of his claws at once, although he needed to keep his wrists straight at the moment his claws passed from his forearms into his hands. When unsheathed, the claws were entirely within his forearms, allowing him to bend his wrists when they were extended. The claws were made of bone, unlike the claws of normal mammals which are made of keratin, and were originally believed to be bionic adamantium implants. Like his son Daken, the bone claws were sharp and dense enough to slice through substances as durable as metals, wood, and stone.
Adamantium Poisoning Immunity: After having his healing factor stripped by a virus, Beast synthesized a drug to counteract the adamantium poisoning in Logan's system to keep him from dying.
Abilities
Master Tactician: Though seemingly brutal, Wolverine was highly intelligent. When Forge monitored Wolverine's vitals during a Danger Room training session, he reported Logan's physical and mental state is on par with an Olympic athlete going for a gold medal, giving something of an idea of the level of sophistication and tactical processing Logan was capable of utilizing while in combat.
Master Martial Artist: Due to his extensive training as a soldier, a CIA operative, a samurai and a member of the X-Men, Logan was an exceptional martial artist, with expertise in Japanese martial arts, and has mastered 15 forms of martial arts. His extraordinary hand-to-hand combat abilities made him one of the finest combatants on Earth, as he was able to keep up with both the Black Panther and the Iron Fist, both expert martial artists. He has also defeated various hand-to-hand experts without using his claws. He even has taught the Black Widow, Rogue, Storm, Colossus, Primal, Sunspot, Armor, Jubilee, and Shadowcat in hand-to-hand combat. He has mastered virtually every martial art on Earth, as well as virtually every fighting style/technique.
Expert Marksman: He was an expert marksman, being skilled in throwing weapons and shooting firearms, but operated more efficiently without them.
Expert Swordsman: Logan was proficient in Japanese sword fighting, having studied under Ogun and the Silver Samurai.
Skilled Acrobat: He was skilled in gymnastics, acrobatics and aerials, but not on the same level as other fighters such as Captain America and Daredevil.
Advanced Covert Ops Expert: Due to his experience traveling the world and working for various government agencies, Wolverine was a trained as an expert in multiple types of weapons, vehicles, computer systems, explosives, and assassination techniques. At one point, he said: "I can put six shots into a quarter... an' get change for the gum-machine".
Skilled Mechanic: Wolverine has also been the mechanic of the X-Men's Blackbird jet.
Multilingual: Wolverine was fluent in many languages such as English, Arabic, Japanese, Russian, Chinese, Cheyenne, Lakota, and Spanish; he also had some knowledge of French, German, Thai, Vietnamese, Farsi and Portuguese.
Equipment
Adamantium Laced Skeleton: Not part of Wolverine's natural mutant attributes, Wolverine's entire skeleton, including his bone claws, were laced with the rare, artificial, and virtually indestructible alloy known as adamantium. As a result, Wolverine's bones were virtually unbreakable. The presence of the adamantium has further enhanced the already razor-sharp edge of Wolverine's bone claws. Aside from being practically indestructible, the claws were capable of cutting any solid material, with the known exceptions of true adamantium and proto-adamantium (Captain America's Shield). However, Wolverine's ability to slice completely through a substance depended upon the thickness of the substance and the amount of force he could exert. Adamantium can also weighted his blows, dramatically increasing the effectiveness of his punches and kicks at times.
Ablation Armor: Due to the recent loss of his healing factor, Wolverine has recently donned armor that can "withstand a nuclear reactor", that was developed by Spider-Man.
Community content is available under
CC-BY-SA
unless otherwise noted.