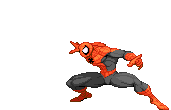 This has got to be the worst alternate universe ever.

-Spider-Man
Hey! Article is a stub. This means that it is short and needs more information, or should be expanded with up to date information, if there is any new information. You can help the Spider-Man Wiki by expanding it. Thanks!
Remember users, remove this template ONLY if the article has been expanded enough.
Electro

Full Name:
Maxwell Dillon
First Appearance:
The Amazing Spider-Man (Volume 1) 9
Created by:
Stan Lee; Steve Ditko
Home Universe:
Earth-616
Alignment:
Bad
Status:
Deceased
Place of Birth:
Endicott, New York
Citizenship:
American
Base:
Unknown
Affiliations:
Sinister Six; formerly Emissaries of Evil, Frightful Four and Sinister Twelve
Powers/Abilities:
Electro is able to store, project, and manipulate electricity with his body, and can manipulate magnetic fields too. Not only can he fly, but he can also travel along electricity lines and through electrical appliances.
Height:
5' 11" (1.80 m)
Weight:
165 lbs (75 kg)
Hair Color:
Bald
Eye Color:
Blue
Unique Features:
None
"Jewels! Money! No matter how much I take, I want more--much more! And with my great power, nothing can stop me from getting it!"
— Electro

Maxwell Dillon (of Earth-616), also known as Electro, is a villain in the Marvel universe.
History
Early life
Max was born to Jonathan and Anita Dillon in Endicott, New York. Jonathan was an accountant, though he had trouble keeping a job. Because of this, Max and his family moved frequently when Max was young and he found it difficult to make friends. His hot-headed father abandoned his family when Max was eight years old. Anita subsequently became overprotective of Max, leading to his single greatest flaw as a supervillain: his inferiority complex.
Years later, Max told his mother he wished to become an electrical engineer. Anita, not wanting him to be angry if he failed, convinced him he was not intelligent enough, and Max reluctantly took a job as a lineman for an electric company.
Becoming Electro
While he was repairing a power line, a freak lightning accident resulted in a mutagenic change in his nervous system, transforming Dillon into a living electrical capacitor. His powers were initially weak, so he spent some time stealing electrical equipment from Stark Industries to charge himself.
During this time, he was approached by Magneto, who considered him a potential recruit for his Brotherhood of Evil Mutants, claiming that Dillon's power rivaled his own, but Dillon refused. The following day, Dillon was confronted by a small-time thug who he'd been borrowing money from to pay for the machinery he'd needed. When the thug drew a gun on him because he hadn't paid back the money yet, he responded by shooting a blast of lightning through the thug's chest- the first time Dillon ever killed anybody.
Soon taking the name Electro, he turned to a life of a professional criminal, his first victim being J. Jonah Jameson. Electro broke into the Daily Bugle Building and stole Jameson's safe right in front of him. Jameson accused Spider-Man of being an alternate identity of Electro, prompting Peter to prove the publisher wrong. During his first confrontation with Electro, Peter was nearly killed when he touched the electrically charged supervillain. Spider-Man eventually used a fire hose to short-circuit Electro.
Criminal Identity
Electro was later hired by J. Jonah Jameson to defeat Spider-Man on national television. He encountered Daredevil in San Francisco, at which time he temporarily donned a modified costume. He then took control of a Protarian android seeking the destruction of Omega. Electro then teamed with Lizard against Spider-Man and Daredevil. Electro then attempted to aid a band of criminals escaping the Avengers.
Electro later joined the Frightful Four. As part of the Frightful Four, he used Spider-Man as bait to trap the Fantastic Four. Electro later learned that he can electro-statically disrupt Spider-Man's wall-crawling ability. The Chameleon and Hammerhead then sent Shocker to try to recruit Electro into their organization. Instead, he later accepted Doc Ock's invitation to rejoin the Sinister Six.
Electro has fought Spider-Man countless times, either on his own or as part of a group such as the Sinister Six. He has also fought such other heroes as Daredevil, Fantastic Four, and the Avengers. Despite his immense power, he has almost always been defeated, usually as a result of his foes outsmarting him or taking advantage of his weakness to water while charged.
As a result of his frequent and often embarrassing defeats, Electro tried to take over New York City's power supply in an attempt at glory and respect. Spider-Man thwarted this plan, however, and convinced Electro to quit his criminal career. When Kaine started killing enemies of Spider-Man, Electro began to fear for his life and temporarily joined Mysterio's Sinister Seven, which had been formed to combat Kaine. This group was quickly disbanded, and following Kaine's subsequent disappearance, Electro returned to retirement.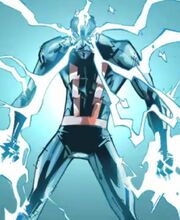 This changed when The Rose agreed to fund an experimental technique that would amplify Electro's abilities, in exchange for Electro's services as an enforcer. Seeing this as a chance to rise above the string of failures that had made up so much of his life, Electro underwent the procedure. After paying off his debt to the Rose by defeating several members of The Avengers, Electro attempted to demonstrate his newly amplified powers to the world, once again attempting to take control of New York City's power supply. Wearing a costume made of rubber insulation, Spider-Man was able to stop him. Electro, in an effort to make a final grand gesture, threw himself into the Hudson River while his body was highly charged, seemingly killing himself in an explosion.
Somehow surviving, Electro resurfaced later as part of the re-formed Sinister Six, formed to kill Senator Stewart Ward and Doc Ock (whom the other members of the Six now hated due to his arrogance). His powers had seemingly reverted to their pre-amplification level. When Venom betrayed his fellow Sinister Six members, attempting to kill them one by one, he attacked Electro and left him for dead. Once again, Electro survived. His whereabouts are currently unknown.
Powers and Abilities
Powers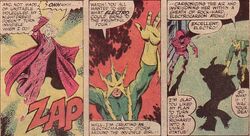 Weakness
Media
Television
Video Games
Film
Trivia
See Also