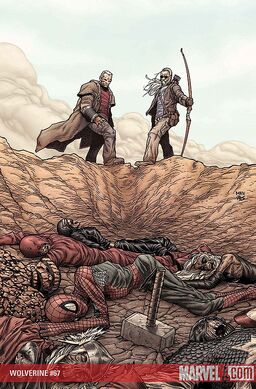 Peter Parker (of Earth-807128) is an alternate version of Peter Parker who was killed in battle 50 years ago that involved all heroes versus all villians in a stand to take back the US.
History
Next to nothing is known about this version of Peter Parker except that 50 years ago he joined forces with the heroes in his reality in a last stand to prevent the takeover of the US by many villains in his reality.
Most of the heroes were killed in the battle, and Peter Parker in costume as Spider-Man was found dead along side Thing, Daredevil, Captain America, Black Cat, Thor and Cyclops.
Community content is available under
CC-BY-SA
unless otherwise noted.