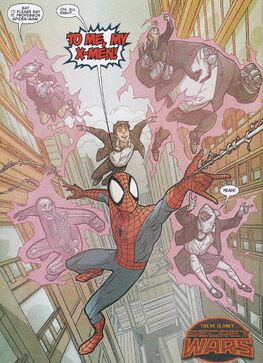 Special Class (of Earth-616) is a mutant class that Spider-Man taught after Wolverine's death.
History
After Wolverine's death, Storm found papers that wanted Spider-Man to teach of past mutant students.
These students were Ernst, No-Girl, Hellion, Rockslide, Shark-Girl, Glob Herman and Eye Boy, which were all classified as "most likely to turn super villain" kids, but also the class an excuse to find a possible mole working within the school.
Team
Spider-Man, teacher and leader of the Special Class

Ernst
No-Girl (Martha Johansson)
Hellion (Julian Keller)
Rockslide (Santo Vaccarro)
Shark-Girl (Iara Dos Santos)
Glob Herman (Robert Herman)
Eye Boy (Trevor Hawkins)
Community content is available under
CC-BY-SA
unless otherwise noted.