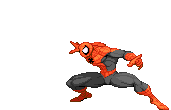 This has got to be the worst alternate universe ever.

-Spider-Man
Hey! Article is a stub. This means that it is short and needs more information, or should be expanded with up to date information, if there is any new information. You can help the Spider-Man Wiki by expanding it. Thanks!
Remember users, remove this template ONLY if the article has been expanded enough.
Stan Lee
Born:
Stanley Martin Lieber
December 28th, 1922 (age 93)
New York City, New York
Died:
N/A
Cause of death:
N/A
Occupation(s):
Cartoonist, actor, voice-artist, producer, reality show host
Years active:
1939 - present
Spouse:
Joan Lee
Children:
Joan Celia

Stanley Martin Lieber (born on December 28th, 1922), better known by his pen name "Stan Lee," is an American cartoonist, reality show host, producer, voice-artist, and actor, best known for co-creating such popular comic-book characters as Spider-Man, the X-Men, Daredevil, The Incredible Hulk, Iron Man, Fantastic Four, Thor, The Avengers, and more.
Spider-Man
Stan and his fellow cartoonist, Steve Ditko, conceived the character as an orphan being raised by his Aunt May and Uncle Ben, and as a teenager, having to deal with the normal struggles of adolescence in addition to those of a costumed crimefighter. Spider-Man's creators gave him super strength and agility, the ability to cling to most surfaces, shoot spider-webs using devices of his own invention which he called "web-shooters," and react to danger quickly with his "spider-sense," enabling him to combat his foes.
When Stan first showed his publisher the idea, the publisher immediately turned it down because he said that no one likes spiders and for the fact that the main hero is a teenager.
Comics
Amazing Spider-Man #1–100, 105–110, 116–118, 200 (1962–80); (backup stories): #634–655 (2010–11)
In media
Television
Lee had previously narrated the Seven Little Superheroes episode of Spider-Man & His Amazing Friends, which the Hulk series was paired with for broadcast.
When Spider-Man travels into different dimensions in the final part of Spider Wars in Spider-Man: The Animated Series, he soon comes into one where he is a fictional superhero and Stan Lee is his creator. He takes Stan Lee for a ride around town and chats with him a little before leaving him on top of a building to return to his universe. Stan jokingly remarks that maybe he should wait for the Fantastic Four to come get him down.
He also voices the character "Frank Elson" in an episode of Spider-Man: The New Animated Series broadcast by MTV in 2003, and entitled "Mind Games" (Parts 1 & 2, originally aired on August 15 & 22, 2003).
He voiced a loading dock worker named "Stan" on The Spectacular Spider-Man in the episode Blueprints.
Stan Lee has appeared in episodes of the Disney XD TV series Ultimate Spider-Man as a high school

janitor named "Stan," in which he makes references to Lee's real-life career. In the pilot, Great Power, he mentions Irving Forbush, a character Lee co-created in 1955 as a literary device. He is also an agent of S.H.I.E.L.D.
Films
Video Games
Stan Lee narrates the 2000 video game Spider-Man (2000), the 2001 sequel Spider-Man 2: Enter Electro, and 2010's Spider-Man: Shattered Dimensions.

Stan Lee is a playable character in Activision's The Amazing Spider-Man video game, which was released in June 2012, as a tie-in to the film of the same name. In the game, Stan Lee is depicted as having the same superpowers as Spider-Man, and uses them to retrieve the lost pages of a new comic book manuscript that he had lost and were subsequently scattered around Manhattan.
Trivia
The first issue that Stan Lee ever wrote was Captain America Comics #3.
He is also working with Hiroyuki Takei (known for his hit manga series Shaman King) on a manga which seems to be separate from the Marvel Universe, called Karakuridoji Ultimo.
Stan Lee also made a cameo in the first season of Heroes as a bus driver.
Stan Lee had a big voice role as the Mayor of Super Hero City in Marvel's Super Hero Squad Show.
Stan Lee made an appearance in an episode of The Simpsons entitled "I am Furious Yellow" in which Bart creates a comic turned web-cartoon called Angry Dad, which is based on his rageaholic father Homer.
See Also