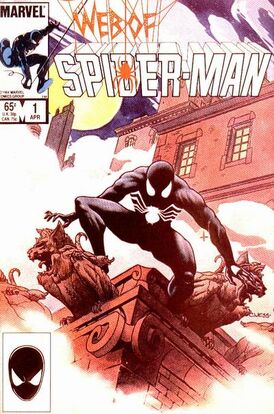 Web of Spider-Man is the name of two different monthly comic book series starring Spider-Man that have been published by Marvel Comics.
Publishing
Edit
The first volume of Web of Spider-Man published by Marvel Comics for 129 issues between 1985 and 1995. It replaced Marvel Team-Up as the third major Spider-Man title of the time. Its first issue featured the return of Spider-Man's alien black costume, which attempted to rebond with Peter Parker. Peter managed to rid himself of the costume again using church bells and the alien was presumed to have died after that.
Volume 2In October 2009, Web of Spider-Man volume 2 debuted as a new anthology title replacing Amazing Spider-Man Family, with the initial story written by J.M. DeMatteis focusing on Kaine. The title also served as the new home for Spider-Girl, who was written by Tom DeFalco and illustrated by Ron Frenz, the character having first appeared on Marvel.com as The Spectacular Spider-Girl. The stories feature characters tied to "The Gauntlet" storyline, such as Electro, the Rhino, the Lizard, and many more from Spider-Man's colorful rogues gallery, each titled "Gauntlet: Origins, ...". The series ended in September 2010 with issue #12.